The idea for a guild grew from just some hazy dreaming in a shed between a few old Range 'woodies' who felt the need for a club to serve the whole of the Blackall Range. Development on the range and adjacent areas due to the recreational and retirement plans of many people was increasing, and the search for fulfilling hobbies, perhaps with some income generation, and the chance for constructive community involvement was growing.
The decision was made to have a go and the club had its first meeting in St.Mary's Hall on the Village Green at Montville on 4th March 1996. The Blackall Range Woodcrafters Guild Inc was formally incorporated on 30th April 1996.
In 2002, after six years in a shed on Western Avenue, and following the receipt of a Jupiter's Casino Grant, we moved to a more permanent base at the Montville Sports Ground, about 3km south of Montville.
With good local support, the club has rapidly grown into a thriving purposeful group over 200 strong. It now has a complete range of equipment, including a solar drying kiln and a large stock and range of timber supplies. In our new premises we envisage young people, retirees, people in care centres and similar being able to take advantage of the benefits which a permanent and purpose-built building can provide.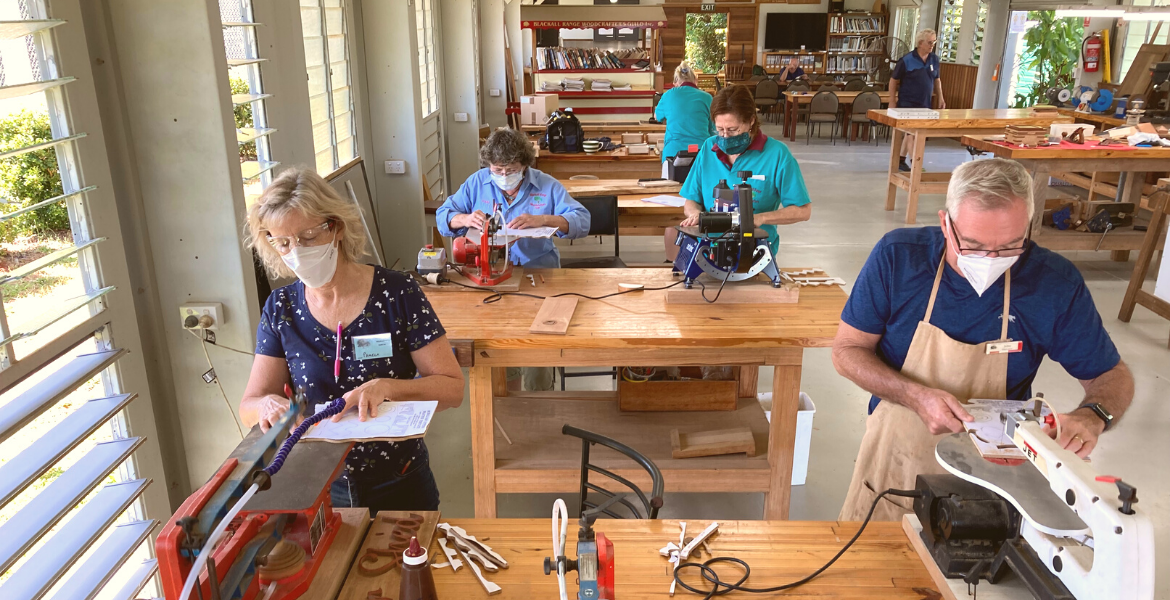 Julie Breen, President
Rick Vickers, Vice-president
Danny Nolan, Treasurer
Pam McCloud, Secretary
Kevin Devlin and John Isles, Shed Managers
Russ Middlecoat, Assistant Treasurer
David Friend and Peter Rich
Russ Middlecoat and Sarah Odgers
David Slatter and Julie Breen
Keith Carter 0408 663 842
Bruce Chapman, Ron Donald and Robert Rothwell
MVA Sportsground Representatives
Keith Carter & Danny Nolan